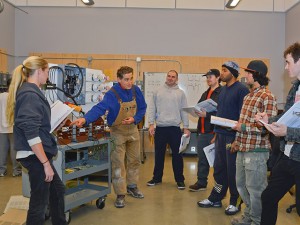 Working with electricity is a fulfilling career that does not get tedious, because every day brings something new and fresh to the profession. A career as an electrician or lineman also offers tremendous benefits and career potential. They get paid to learn instead of taking student loans. Average IBEW hourly pay ranges from approximately $10.82 per hour for Apprentice Electrician to $48.90 per hour for Journeyman Electrician.
Being an electrician is very much a hands-on career that requires good hand-to-eye coordination and the ability to clearly distinguish the colors used to identify wires. Electrical work can be strenuous and demands physical strength and stamina. You also need an aptitude for mathematics and science, particularly physics and a careful, detailoriented approach to work.
The following requirements are typical for individuals applying to be accepted into a Powering America Apprenticeship Program.
Minimum age 18
High School Education
One Year of High School Algebra
Qualifying Score on an Aptitude Test
Drug Free
Individuals participating in the various apprenticeship training programs can receive college level credit for their efforts, including completing associate's and bachelor's degrees.
The electrical training ALLIANCE has developed an interactive CD-ROM which provide additional information about the four areas of training in the Powering America apprenticeship programs.
The CD-ROM includes video clips showing basic qualifications, completion requirements, on-the-job training, classroom training, typical job sites and career opportunities. You can also get information about the aptitude test, used by many JATCs; and the interview, which will provide you with the opportunity to meet the committee and enter the program. To order your copy of the CD-ROM, click here.