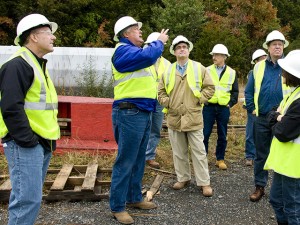 Have experience in the electrical construction or line industry but need work? Powering America contractors are looking for skilled electricians and line workers for their teams and offer top notch training, opportunities to earn college credits and university degrees, and excellent compensation packages. Check out one of the
Powering America Job Fairs
or send a copy of your resume, indicating the region where you would like to work, to
powering-america@necanet.org
.
Please be aware that this is a referral service only; we make no hiring decisions and offer no guarantee of employment. There may be no openings for someone with your qualifications at this time. Contractors that participate in this service will decide whether to respond to you directly or to keep your resume on file.
Frequently Asked Questions
What are the salary and benefits if I work for a Powering America contractor?
Because local conditions differ across the country, we cannot quote you a dollar-per-hour rate. However, our wage rates are among the highest in electrical construction. More important, the benefits include health care and retirement plans. Nationally, all of our workers are covered under one of the 100 largest pension funds in the United States. Additionally, many of our contractors offer 401(k) and other supplemental pension plans, annuities, vacation time, and more. There is no "better deal" anywhere in electrical construction because we want the best.
What are the minimum qualifications to apply?
You should have worked in the electrical and high-tech information industries, meeting one of the following minimum years of experience:
5 years working as an electrician performing industrial/commercial/institutional and related electrical construction;
4 years working as a lineman in powerline and/or communications construction, including utility transmission and distribution;
3 years performing telecommunications work, including telephone, voice-data-video cabling, systems integration, and related electrical work; or
2 years working as an electrician on residential or housing projects, including single-family and multi-family work.
In this time, you should have done a variety of tradesman's work in the area in which you are a professional and be able to demonstrate these abilities, when asked. In addition, you must
be DRUG-FREE;
be able to pass a simple mathematics test; and
have earned a high school diploma or a GED.
What makes Powering America contractors different from other electrical contractors?
Powering America contractors offer craftspersons outstanding wage and compensation packages. Most Powering America contractors qualify as small businesses, but included among them are the largest electrical contracting companies in the United States. They have access to the latest information on innovations, techniques, products and management strategies. Furthermore, they emphasize comprehensive industry education and safety programs and are instrumental in setting industry standards and developing certification programs.