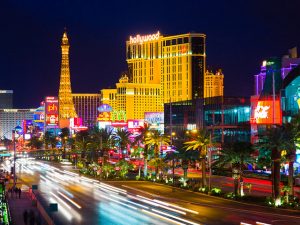 Las Vegas Power Professionals
 consists of craftsmen of the International Brotherhood of Electrical Workers Local 357 and their signatory contractors—including those who are members of the Southern Nevada Chapter of the National Electrical Contractors Association, supported by the Electrical JATC of Southern Nevada.
For customers, the Las Vegas Power Professionals team brings excellence to the job and an assurance that your electrical contractors and their craftspersons will:
Perform with the special knowledge and experience matched to your project;
Reduce accidents and injuries and, in turn, reduce costly delays;
Eliminate callbacks and limit change orders; and
Avoid emergencies that bust budgets, or incidents that turn into legal issues.
For anyone looking to enter the electrical industry in Southern Nevada, the Las Vegas Power Professionals team–through the Electrical JATC of Southern Nevada –offers one of the best apprenticeship and training programs in the United States, training more than 2,000 apprentices to journeyman status since 1948. In addition to hands-on training, the Electrical JATC of Southern Nevada offers coursework that closely parallels a traditional college curriculum. A variety of educational institutions allow apprentices to gain college credit for completion of JATC courses, including the recognition and transfer of these credits toward two-year and four-year degrees.
Our Team
Leslie L. Mujica, Executive Director
Kevin Costa, Field Compliance Agent

Our Board
Labor Trustees
Lamare E. Jones, Chairman
James Halsey
William Spielberg
Danielle Brand
Management Trustees
Matthew Dustin / Treasurer
Brady Stevens
Kenny Whipple
Kenny Pope