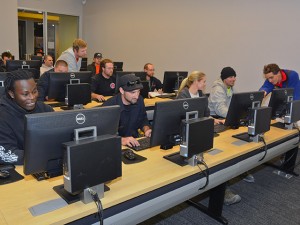 You want the best for your children. You work hard to direct them in the path of opportunity, to give them a future. So what about the Electrical Industry? Is it really a field to consider? YES! Electricians have secure and gratifying career options, with opportunities for leadership and career advancement. In addition, your son or daughter will be able to benefit from the industry's unique combination of earn-while-you-learn training that can be applied toward a college degree and excellent pay and benefits packages.
Powering America careers start with thorough apprenticeship training—from the basics in the classroom to hands-on work in labs and the field. Apprentices complete 4,800 hours of on-the-job training and 480 hours of classroom work over a three- to five-year period. Training covers mathematics, physics—including the behavior of electricity, safety, and communications skills.
Apprentices demonstrate responsibility early in their careers—with strict attendance requirements and examinations to evaluate progress. Over the course of their training, apprentices are paired with mentors who will help them with hands-on training at actual job sites! Electricians and linemen learn to work both on their own and with teams of professionals to successfully complete complex projects.
Powering America apprentices can elect to earn college credit equivalencies for their apprenticeship studies through the American Council on Education, link their apprenticeship courses to associate-degree programs at a nearby college, or enroll in online degree programs that the electrical training ALLIANCE, a partner with Powering America, has developed in association with accredited two- and four-year colleges. Both Associate's and Bachelor's degree programs are available.
Most students who take the traditional route into a college or university pay tuition for several years, often taking large student loans, and then graduate into an entry-level position with low pay. Powering America electricians EARN while they LEARN.
Powering America apprentices typically earn $50,000 to $75,000 in total wages and benefits while learning their trade, depending on which one of our four apprenticeship programs they select. It's not unusual for apprentices graduating from our inside programs to earn $80,000 or more in their first year as a journeyman (depending on where they live and work). Pay in our other specialties is also highly competitive with, and often surpasses, what new college graduates earn.
That's not all. A career in the Electrical Industry offers great benefits programs (benefits vary by location). All include health insurance and participation in a national pension plan, most also include supplemental employer-paid pension and/or annuity funds, 401(k)s, and other benefits.
How Can I Get More Information?

The electrical training ALLIANCE is a nonprofit organization that works with the Powering America team to train the next generation of electrical workers. The ALLIANCE consists of 300 joint apprenticeship and training centers (JATCs) in the United States and Canada, more than 100 electrical industry manufacturers and training partners, and a vast network of public and private educational institutions from secondary school level to the university level.