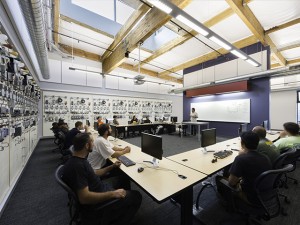 Feel trapped by an unfulfilling job? Perhaps you attended college but your paycheck doesn't stretch very far and your benefits could be better. Or are you just tired of sitting behind a desk? Perhaps a Powering America apprenticeship is just the ticket to bring you a brighter future. It provides an opportunity to earn while you learn the skills required to become a Professional Electrician and start a whole new career.
Professional electricians are not manual laborers, yet most of them don't work desk jobs, either. More than 300,000 electrical workers have found that the field offers unlimited mobility, excellent compensation—including health insurance and a pension plan, and even educational opportunities. And in case you are wondering, the need for electricians and line workers in growing!
Powering America careers can be broadly divided into four segments: "Inside" which includes standard electrical installation and maintenance for office buildings, retail stores, manufacturing plants, malls, and more; "Voice Data Video" which includes the installation and maintenance of computer networks, internet connections, fiber optic systems, life, health, and safety equipment, and voice, data, and video systems; "Outside" which includes specialized high-voltage cabling and equipment for utilities to bring electricity from the generating plants to the consumer and low-voltage cabling and equipment for long-distance communications; and "Residential" which includes electrical installations and maintenance in our homes and apartments.
Here's what a Powering America career can mean:
College Credits – anyone completing our career education programs may be eligible to receive from 22 to 58 credits toward the award of an associate's degree. We also enable credits earned in our apprenticeship programs to be transferred to a four-year college for application towards a bachelor's degree. All of this without incurring debt!
Pay & Benefits – our apprenticeship programs combine formal, instructor-led class work with real work experience. It is possible for individuals to earn total wages of from $80,000 to $150,000 during a three- to five-year apprenticeship—earning while they learn. There are excellent benefits as well.
A Future – there dozens of Powering America career choices, from technical to managerial to entrepreneurial. The place to begin is with apprenticeship training. With it, it is possible to build exciting, challenging, and rewarding lifelong careers.
Powering America professionals say they enjoy this work. They will tell you it's a great career because the work engages the mind. It is challenging, it can be physically demanding, but it is also rewarding. And, beyond that, our electrical and technical professionals can, and often do, become supervisors or take management positions within the companies they work for. In some cases, they even purchase the company or start a new company of their own. In one study it was found that 7 out of 10 of the owners and senior managers of electrical, line, and technical contractors started their careers as apprentices. Some may become electrical inspectors or safety professionals, some may return to school to become engineers or project managers, where credits earned under an apprenticeship program can be a real help.
Our programs don't lock people into a job, they unlock opportunities. A choice of programs is available to qualified men and women. Don't let job titles like "journeyman" fool you, many women have built successful careers through our programs, and our industry is always on the lookout for bright, capable applicants regardless of gender or any other factor.
How Can I Get More Information?

The electrical training ALLIANCE is a nonprofit organization that works with the Powering America team to train the next generation of electrical workers. The ALLIANCE consists of 300 joint apprenticeship and training centers (JATCs) in the United States and Canada, more than 100 electrical industry manufacturers and training partners, and a vast network of public and private educational institutions from secondary school level to the university level.